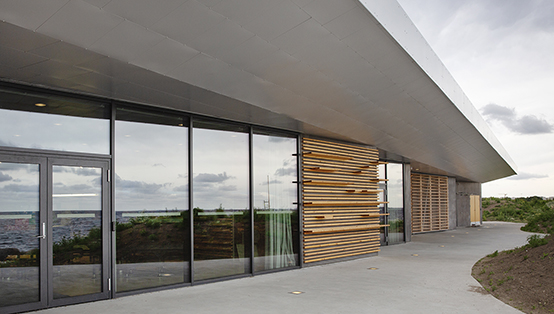 On May 10th in-person attendees* are invited to join one of three study visits, all connected to the theme of ocean literacy.
Registratrion for study visits will take place when you arrive at the conference on Monday 9th. To make sure the registration process runs as smoothly as possible we ask you to choose one study visit to attend beforehand as well as one back-up session incease your first choice is all ready full.
Malmö Museums: Wisdome and The Aquarium
Station 1: Get to know the Wisdome Theatre:
With four other leading science centres in Sweden, Wisdome Malmo is designed as a visualisation dome theatre set up and interactive learning environments to promote multidimensional learning. Wisdome's aim is to promote interest in science and technology, especially among young people in Sweden and in school education.

The use of digital visualisation techniques offers unprecedented new opportunities to enhance education and support problem solving on a broad scale. By using visualisation tools, educators can make the connection between often separate disciplines such as climate change, greenhouse gas emissions, ocean energy, freshwater and ocean, and economic development. The connection between climate (SDG 13) and ocean (SDG 14) offers new opportunities to bring the ocean and the blue economy into Swedish classrooms. Meet the education officers and hear more about the work done so far and the forthcoming learning programs in the visualisation arena.
https://wisdomeproject.se/english/
Station 2: Meeting with the Professional Association of Scuba Diving Educators

New trends are emerging in school curricula that calls for the inclusion of quality education (SDG 4) for sustainable development for life underwater (SDG 14) under national blue curricula and policy frameworks.
- Learn from the Malmo-based coalition of diving instructors and diving safety educators who have professional authority in diving curricula, credentialing and guiding students in continuing education programmes for sustainable ocean (SDG 14).

- Discuss approaches to align diver education with other educational institutions through partnerships, including private sector training and certification institutions and centers.
Only through active collaboration with scuba diving educators, engineers, transdisciplinary marine scientists and marine safety professionals trained to work in transdisciplinary settings can policy makers find ways to design a progressive blue curriculum that is consistent with the needs for decade of actions needed for oceans. The study visits demonstrate the partnership (SDG 17) between Swedish educational institutions and their approach to quality education to pave the way towards the Sustainable Development Goals.
You can learn more about this by pressing this link.
The Aquarium
"The Aquarium – a living world" is an exhibition and a public aquarium at Malmö Museums. We will have a presentation about how we as a public aquarium can spread information and create engagement and awareness about the sea and our nature. Does it matter if a small gray and dull fish disappears?
2. Naturum Öresund
Naturum Öresund is a visitor center that describes, explains, and increases the awareness of Öresunds natural values and marine environment. The center offers outdoor educational programs, activities and events for schools, universities, and the public to promote ocean literacy. Naturum Öresund also accommodates exhibitions and aquaria displaying the different habitats in the shallows of Öresund. The aim is that everyone visiting naturum – children, young and elderly, regardless of background and ability – shall learn about the importance of the ocean and the marine environment and thereby become more ocean literate.
During the visit you will learn about naturum Öresund's educational work, explore the exhibitions and aquaria, discover the hidden planktonic universe, get a taste of Öresund and much more!
You will also meet students from Fågelbacksskolan grade 9, that demonstrate their innovation "Seaver - follow the stream towards the dream" and share their experiences from participating in the educational program "Mission Ocean Literacy". You will also be able to join naturum Öresunds marine educators to investigate the life below the surface – waders and nets are provided*.
*Note that there is a limited number of places available. Register on site at naturum Öresund - first come first served!
3. Vattenvetarna
Malmö Museums showcase their mobile water laboratory, Vattenvetarbussen, packed with high tech equipment for exploring our world. Vattenvetarbussen enables educators and students to use high tech equipment in the field and is specialized in water related issues.
Buses will be provided for those who wish to visit Malmö Museums or Naturum Öresund. Vattenvetarna is a mobile water laboratory and will be stationed outside the venue.
*There is unfortunately no possibility for remote participants to join the study visits.