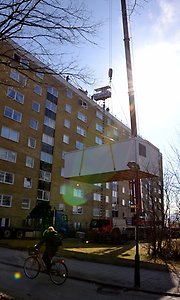 Climate Living In Cities Concept
Welcome to a conference on how to make your buildings more energy efficient.
Take part of project experience CLICC (Climate Living In Cities Concept), which presents a method for cost-effective climate renovation of buildings. By combining investments with changes in behavior, climate impact from living in apartment buildings, together with costs, can decrease.
Welcome to participate in the conference of 17 september 2012 and the field trips on 18 September.

When? Mid-term conference September 17, at 9-17, and field trips September 18
Where? Malmömässan in Hyllie, Malmö
What? Day 1: Full day conference focusing on energy efficiency in existing buildings, resident participation and behavioral change as necessary means to reduce greenhouse gas emissions.
Day 2: Visit to Ekostaden Augustenborg and the HSB Brf Hilda, two residential areas in Malmö, where impressive sustainability efforts has been made.
Who? At the conference you will meet the property owners (private and public), housing associations, residential and tenant associations, politicians, officials and stakeholders such as ICLEI, Eurocities, schools / universities, businesses and the public.
Parts of the conference will be held in English.
Monday 17 September - Conference program
The program may be subject to changes.
9.00-9.30 Registration
9.30 — 9.50 Welcome and introduction to CLICC, Kerstin Rubenson ,
Environmental Department, Malmö
9.50 — 10.30 Sustainable renovation of existing buildings. Experiences and way forward.
10.30-11.10 Sustainable renovation of brf Hilda, Malmö Dan Håland, Hilda
11.10-12.00 How to engage inhabitants and customers Dennis Kerkhof , Domein
12.00 — 13.00 Lunch
13.00-13.30 Climate Coaching — a social / human way to a climate-friendly lifestyle
13.30-14.00 Importance of energy efficiency Anders Rubin, vice for city development, Malmö and Katarina Pelin, Director Environmental department, Malmö
14.00-14.30 National Housing Board: Betsi: what is necessary to get energy efficiency measures implemented in existing building stock (excl. outside insulation)   Susann Pluntke, Boverket
14.30 — 15.00 Coffee break
15.00 — 15.45 Energy reduction through behavioural changes, Emma Ödling, Project manager Be Green, Umeå municipality
15.45-16.30 Making energy usage visible Stina Wessman, Designer, Interactive Institute
16.30 — 16.50 The sustainability journey of Malmö. Trevor Graham, Head of Sustainable life style unit, Environmental Department, Malmö
16.50 — 17.15 Discussion
19.00 Dinner
Tuesday 18 September: CLICC study tour
Limited number of participants, pre-registration available in the conference registration form. The program may be subject to changes.
08:30 Bus departure from hotel
09.00-10.15 Visit Hilda
10.15-10.45 Coffee break  
10.45-11.15 Transfer
11.15-12.30 Visit Augustenborg
12.30 Lunch