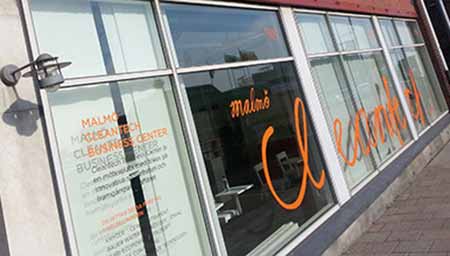 Malmö CleanTech City is a project in operation since 2010 under auspices of Malmö City's Trade and Industry Agency.
The project is aimed at supporting environmental technology companies, also known as "green tech companies," and serves as a link between the private sector, academia, and the municipality.
Environmental technology companies are on the rise – they are needed in Malmö not only because they create job opportunities, but also because of the city's ambitious environmental goals and its pursuit for sustainable urban development. Malmö CleanTech City means both triple helix networking with a focus on environmental technology and a physical meeting place at Nordenskiöldsgatan 17, as well as our testbed activity where we coordinate key people in the various departments that offer testing of innovative environmental technologies.
We organise various seminars and events, such as match-making meet-ups for the benefit of environmental technology companies. Two project managers operate the project and if there is time, we look forward to telling you about our work and our experiences. If there is an interest, we can also involve environmental technology companies that can tell you about their business operations.
What does the project Malmö CleanTech City mean?
How can the municipality assist environmental technology companies?
In what industries can green technology be found?
Malmö's urban transformation and economic development
Environmental technology companies present their activities (depending upon specific interests) – challenges and opportunities
Practical info
location: Malmö Cleantech Center, Nordenskiöldsgatan 17
duration: 30 min.-90 min. We adapt the program according to specific interests. We need your reservation well in advance.
type of study visit: Lecture. There is also the possibility of arranging an opportunity to visit environmental technology companies (depending upon specific interest).
target group: Managers or others who are, in one way or another, working for sustainable development and have an interest in green engineering.
max number of participants: 35 people
website: Malmö Clean Tech City