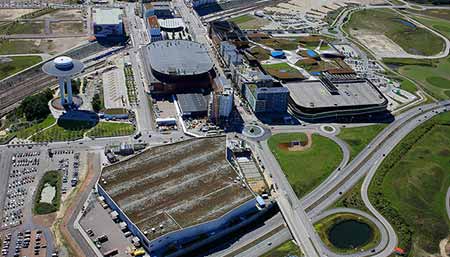 The ambition of Malmö's biggest development area is to create a mixed city full of life and to become a role model for climate smart living. 
During a visit we will show the expansion of Hyllie, a future-oriented part of town with the potential to promote growth in both Malmö and the Öresund region.
Ideas to expand southern Malmö have been entertained since the 1960s. Yet it was only in connection with the decision about the City Tunnel, and thus a new train station in Hyllie, that expansion plans began in earnest.
Fully developed, Hyllie will boast nine thousand homes and the same number of new jobs. Energy supplies to Hyllie will be purely renewable or recycled energy and the energy system will be based on so called smart infrastructure.
Ease of commuting and communications associated with urban development, green surroundings and a southern Swedish landscape make Hyllie an attractive center for residents, visitors and businesses.
This technical visit involves:
Current plans and current projects in Hyllie center - generally about the development of the area 
Possible focus areas:
The city landscape - a unique development concept with green qualities as a basis. (Key words: Landscape Architecture, Architecture, Urban Planning)
How do you sell a place that does not exist? - a joint effort by all the area's stakeholders. (Key words: On-site marketing, Branding, Businesses, Marketing)
Malmö's biggest growth area - Hyllie as an important growth factor in the region. (Key words: Society development, Growth perspectives)
Hyllie's vision of becoming the most climate-smart city area in the Öresund Region and a benchmark model for the rest of the world. (Key words: Environmental strategies, Climate issues)
Hyllie's green areas and public spaces (Key words: Urban environmental programs, Green areas, Landscape architecture, Lighting)
Hyllie as a communications center (Key words: Transport, Infrastructure) 
Practical info
location: Hyllie Info Center, Malmö Arena, Hyllie Boulevard 26  length: 1-2 hours 
type of study: lecture and tour  
max number of participants: 50 people on lecture, 20 on tour
website:hyllie.com
Indicate which focus area you are interested in when filling in the booking form.