The expansion of the Western Harbour has attracted much international attention. The area is well-known for its innovative environmental technologies and way of looking at sustainability from both social and cultural perspectives, as well as technical and economic perspectives.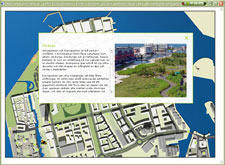 Sustainability & Environment
The Bo01 area which opened in 2001 is planned to supply the area with 100% local and renewable energy and food waste from households is converted into biogas. There is an open water run-off system and biodiversity in the area is benefited by so-called green space factors and green areas. During a technical visit we follow developments in the Western Harbour from Bo01, Sweden's first urban area with a carbon neutral energy system, up to the new generation of sustainable construction projects in areas like Flagghusen, Fullriggaren and Kappseglaren. 
City planning
The Western Harbour is the city's most expansive area with a focus on residential and commercial properties. A diverse area is emerging here with residential buildings, offices, a preschool, a school, wheelchair accessible residential buildings and car parks. During a visit to the area you will take in the story of when Malmö was transformed from an industrial city into a knowledge city. 
A visit to The Western Harbour involves the following areas:
Water run-off management
Solar cells, aquifers and wind power
Biological diversity - including green roofs
Mobility
Waste management
Low-energy buildings
Malmö City´s dialogue with contractors
Quality norms and environmental requirements
Socially sustainable residential areas
Please note that from November to March we don't do any guided tours in the Western Harbour area.  You can instead contact independent guides that Malmö City cooperates with. Here's a contact list of professional Malmö guides (pdf).