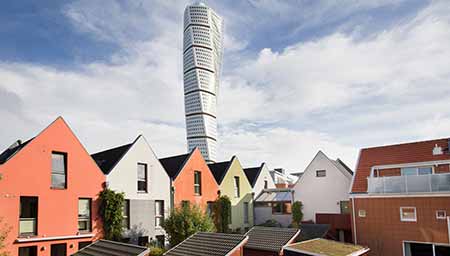 The expansion of the Western Harbour has since its beginning attracted considerable attention, and it has become an international model for sustainable urban development. Its location on the waterfront, closeness to the city and its fine urban environments make the Western Harbour one of Malmö's most attractive areas to live, work and visit.  
In the Western Harbour, Malmö City uses a value-based model for urban development and together with property developers they work with various sustainability models - from dialogue and knowledge-building, to common environmental goals and certification systems where all aspects of sustainability characterise the process from start to finish.     
On a visit we follow the development in the Western Harbour from its start, from Bo01 - Sweden's first urban area with climate-neutral energy systems, to the new generation of sustainable construction projects.
In the Bo01 area, built for the European housing exhibition in 2001, modern architecture mixes with environmental technology.  The area is supplied with local, renewable energy and has an advanced system for waste management. There is an open storm water system and biodiversity in the area benefits from green spaces and areas.
The Fullriggaren area has the largest collection of passive and low-energy houses. Organic waste is collected by waste disposers and is led to collection tanks for biogas production. Renewable energy is produced in the area and there are car and bike pools.
The latest project called Kappseglaren has i.e. a completely carbon-neutral, passive complex as well as so-called "smart homes" with intelligent and energy-efficient systems.
 
You have the opportunity to immerse yourselves in the following areas:  
Architecture and Sustainability: guided tour focusing on the Bo01 area.
Dialogue with property developers, Environmental construction programme Syd and Breean Communities: lecture
Experience of 10 years of development - a mid-point evaluation: lecture or guided tour
Fullriggaren — Small-scale property development, dialogue with property developers, dialogue for sustainable cities: lecture or guided tour
Ongoing urban development in the Western Harbour; planning programmes and value-based planning: lecture
 Public areas and green structures: lecture or guided tour
Transport strategy and action plan: lecture
Please note that from November to March we don't do any guided tours in the Western Harbour area.  You can instead contact independent guides that Malmö City cooperates with. Here's a contact list of professional Malmö guides (pdf, 40.7 kB).
Practical info
meeting point: Malmö Cleantech Center , Nordenskiöldsgatan 17 or outside at the entrance of Turning Torso
length: 1-3 hours depending on the type of visit
type of study: Lecture or guided tour or both. Indicate which focus area you are interested when filling in the booking form. 
cost: 2000 SEK excl. VAT, 1000 SEK excl. VAT for student groups
max number of participants: 25