Gender mainstreaming in the City of Malmö
In 2011, the Malmö City Council adopted a Development Plan for Gender Mainstreaming. Since then, the work with gender mainstreaming has made great strides.
Gender mainstreaming is a strategy to incorporate a gender perspective into all decisions and in the planning, implementation, monitoring and development of the activities and operations. In this way, we can assure the quality of our activities and our workplaces so they become gender equal and non-discriminatory.
The target groups for the work are elected officials and employees of the City of Malmö. The ultimate goal is that the City of Malmö can ensure an equal distribution of power and resources, and to offer equivalent service to women and men, girls and boys.
During the study visit, we talk about Malmö's gender mainstreaming work – from words to action.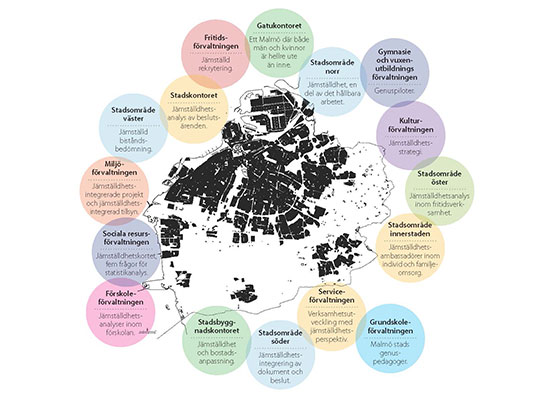 Practical info
location: City Hall, August Palms plats 1
duration: 45 min. 
type of study visit: lecture
target group: civil servants and/or politicians who work with or want to know more about gender mainstreaming.  
max number of participants: 25 persons