The 1950's character of some of the buildings has been damaged in the 1970's by covering the facades with external insulation and steel sheeting. This has also had a negative effect on the internal environment in certain houses causing problems with damp, ventilation and temperature control.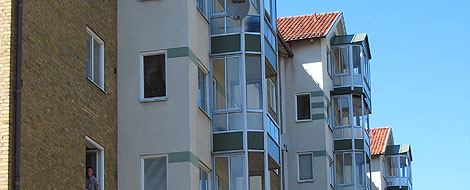 The outer covering of the walls on some of the buildings has been removed and a new insulation layer has been covered with a skimmed painted render. The appearance of the houses is now more like the original and the energy efficiency has increased by about 10 percent compared with the 1998 status of the buildings or approximately 35 percent more efficient than the original status of the building.
A new school building has been erected using natural materials, a high level of natural lighting, ground source heat pump, solar thermal panels, composting toilets and a number of other finesses to create what pupils and teachers alike agree are the most pleasant classrooms in the school.  The building is a factory made moular construction which can be removed and relocated in another school in the future if pupil numbers in Augustenborg decrease.
Improved accessibility has also been behind the conversion of one high rise block and the construction of a new two storey building, both earmarked for senior residents.  The lack of lifts in the area was one of the driving forces behind this.  The new building is a lightweight concrete structure built with prefabricated units on the roof of an underground garage.  The building has an interesting design, good general environmental performance and green roofs in kleeping with all new development in the neighbourhood.