Rosengård is a city district in Malmö. Many visible and physical changes are taking place, and residents are getting involved through participatory processes to bring about ecological, social and economically sustainable development.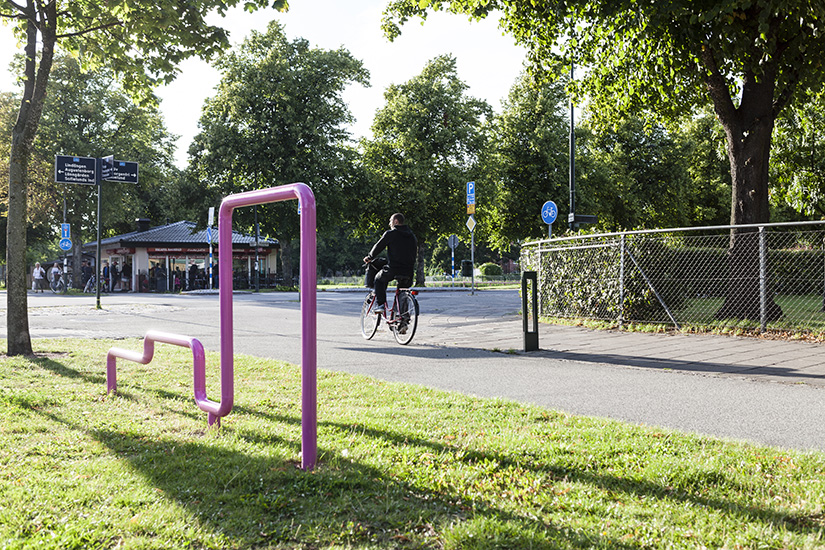 From 2010-2014 a large transformation process was initiated and completed. Stakeholders worked together on large and small initiatives. Some are highly visible and others more subtle; some made rapid progress whereas others will generate results in a longer perspective.
Download more information:
Brochure about sustainable investments in Rosengård Pdf, 2.5 MB. (Pdf, 2.5 MB)
The Rosengård in transition project combined physical changes with high environmental and social prestanda, together with dialogue with inhabitants and organisations, in ordet to create new social arenas for meetings and activities, new job opportunities and a better infrastructure connecting Rosengård with other parts of Malmö.
The transformation process was initiated by individuals in a shared equity housing in Rosengård, BRF Hilda, whose vision of a sustainable housing area with minimal climate impact and a sustainable lifestyle became the foundation upon which the plans to developed Rosengård is built.
A very important part of the process was an intense dialogue with and participation from inhabitants, organisations and businesses interested in developing Rosengård in an ecological, social and economical sustainable way. This included consultation and workshops as well as participating in realizing activities and taking part in construction.
Innovative environmental engineering has been, in line with the city of Malmö's high demands on environmental sustainability in construction. The investments in the physical environment will be used as a testbed for interesting cleantech solutions.
Investments in Rosengård:
Sustainable Hilda - Renovation of a shared equity housing with 767 apartments and approximately 2 400 inhabitants with a focus on energy efficiency, renewable energy, water, transportation and lifestyle.
Rosengård path - The status of Rosengård pedestrian and bicycle path was enhanced through the creation of a town square and an outdoor arena for cultural and sport activities. In addition, green structures enhanced and the lighting were improved and more energy efficient.
Youth - The aim was to broaden the involvement of young people, especially females, in the long term development of the city district, with an emphasis on the outdoor arena on the Rosengård path.
Urban densification - Construction of low energy semi-detached houses in cooperation with developers. A construction school will give prospective residents and unemployed in Rosengård skills in construction and environmental engineering so they can participate in the construction and take a step towards an employment.
Rosengårds ice rink -The aim is to create a leading demonstration object for ecological restoration of ice rinks with focus on energy, water and outdoor environment.
Climate-SMART food centre - The knowledge of kitchen staff, educators and children about food's origin and its significance for climate change, environment, health and learning will be approved. In addition, public space will be used for community gardening initiatives.
Värner Rydén school - The aim is to create a leading demonstration object for ecological restoration of schools with focus on energy, outdoor environment and environmental education.
Sustainable travel - Improvement of public transportation through construction of a train station and measures to facilitate bus accessibility, in order to improve the links between Rosengård and surrounding parts of Malmö.
Water consumption in rental apartments - The environmental impact of a rental stock will be reduced by reducing cold and hot water consumption with 40 per cent.
Cleantech - Cleantech companies will be encouraged to establish themselves, grow and create a domestic and export market, through testbed, technical visits, marketing and matchmaking between property owners and cleantech companies.