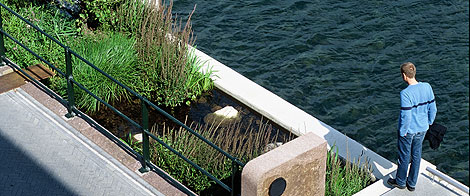 Nature is present throughout the city district thanks to conscious planning. Rich and varied greenery in parks, yards, along streets and in squares has a positive effect on the health of residents and visitors. The plan is to efficiently use the space available and to promote biodiversity.
Green space factor
Green space factor is a planning instrument that guarantees a certain volume of greenery in residential courtyards. Areas of water, depth of soil and the opportunity for rainwater to penetrate into the ground are encouraged. The walls and roofs of buildings are also included in the calculation by means of green roofs and climbing plants. Green roofs mostly involve a thin covering of drought-resistant plants being laid
on the roof. In recent times, thicker green roofs with higher biodiversity and greater capacity to deal with surface water have also been installed.
Green space factor was introduced in 2001 in connection with the Bo01 the international housing exhibition fair. The positive results led to the instrument now being used in the city's new construction projects, primarily via its inclusion in Miljöbyggprogram Syd. The General Plan for Malmö states that 'Green space factor is a tool for ensuring that green qualities are achieved in connection with construction. Green space factor can be used where appropriate and can be developed to be more
applicable in different contexts. The aim is to contribute to good living conditions for humans, animals and plants'. The greenery and water that green space factor leads to make a positive contribution to the urban environment in various ways that benefit us humans. These are called ecosystem services, and examples are recreation, improved local
climate, noise reduction and reduced risks of flooding. The General Plan states that: ' Ecosystem services must be valued, taken into consideration and reinforced in urban planning, maintenance and management so that their values and functions do not deteriorate'.
Green points
To promote biodiversity, green space factor is supplemented with 'green points'. At the time of Bo01, there was a list of 35 wide-ranging environmental measures, at least 10 of which were to be implemented in each residential courtyard. The system green of points was then continued in a modified form in Flagghusen and now exists in an even more modified form in Miljöbyggprogram Syd. The programme requires at least three bird and bat nesting boxes or other animal houses,
two natural biotopes and visible management of service water to achieve the highest level.
Contact us
Malmö stads kontaktcenter