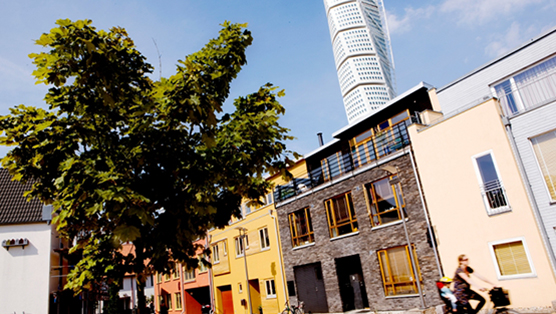 Västra Hamnen – the Western Harbour – is one of Malmö's largest residential construction projects. When complete, it will have 20,000 residents and a roughly equivalent number of workspaces. Once a declining post-industrial area, the Western Harbour has been transformed into an attractive and sustainable modern dockland development.          
The Western Harbour redevelopment consists of various different projects. The first – Bo01 – was launched in 2001. The last is due for completion after 2030.
Site of former shipyard
Built using fill material, the Western Harbour served as a dock and port area for the Kockums shipyard and other industries from the mid-1800s to the 1980s. Kockums was the world's largest shipyard in its heyday in the 1950s and 1960s, employing around 6,000 people. However, the shipyard went into decline following the oil crisis of the late 1970s and closed in 1986.
Focus on sustainability
The Western Harbour redevelopment project was launched in conjunction with the Bo01 European Housing Expo of 2001. The expo theme was urban development in an ecologically sustainable information and welfare society. Bo01 brought the construction of a new city district, featuring pioneering environmental solutions and innovative architecture, on these lines in the Western Harbour.
Later construction projects in the harbour area, such as Flagghusen, Fullriggaren and Kappseglaren, have retained this focus on environmental high-tech and sustainability. The Fullriggaren development boasts Sweden's largest collection of energy-efficient buildings and has the country's most extensive system for collecting organic waste via kitchen waste disposal units.
An attractive part of town
The Western Harbour attracts visitors from across Malmö and all over the world. The corkscrew-shaped 190-metre-high Turning Torso skyscraper, designed by Spanish architect Santiago Calatrava, is an unmistakeable landmark, while the nearby Sundspromenaden throngs with local people during summer. Swimming in the sea here and off the nearby Ribersborgsstranden beach is popular in warm weather. Also close to the Turning Torso are the Stapelbäddsparken skateboard park and the Dockan marina.
Urban yet close to natur
The Western Harbour is a multifaceted place today. Its former docks are home to Malmö University and assorted media, cleantech and construction companies. The Western Harbour has achieved its ambition of becoming a national showcase for sustainable urban development. The area is far from complete, however, and new challenges await as it completes its transition into a vibrant urban space built in harmony with nature.   
Facts

Area: 187 hectares
Coastline: 9.6 km
Inhabitants (2013): 6,835
Workforce (2012): 11,397
Preschools: 7
Elementary schools: 2
High schools: 4